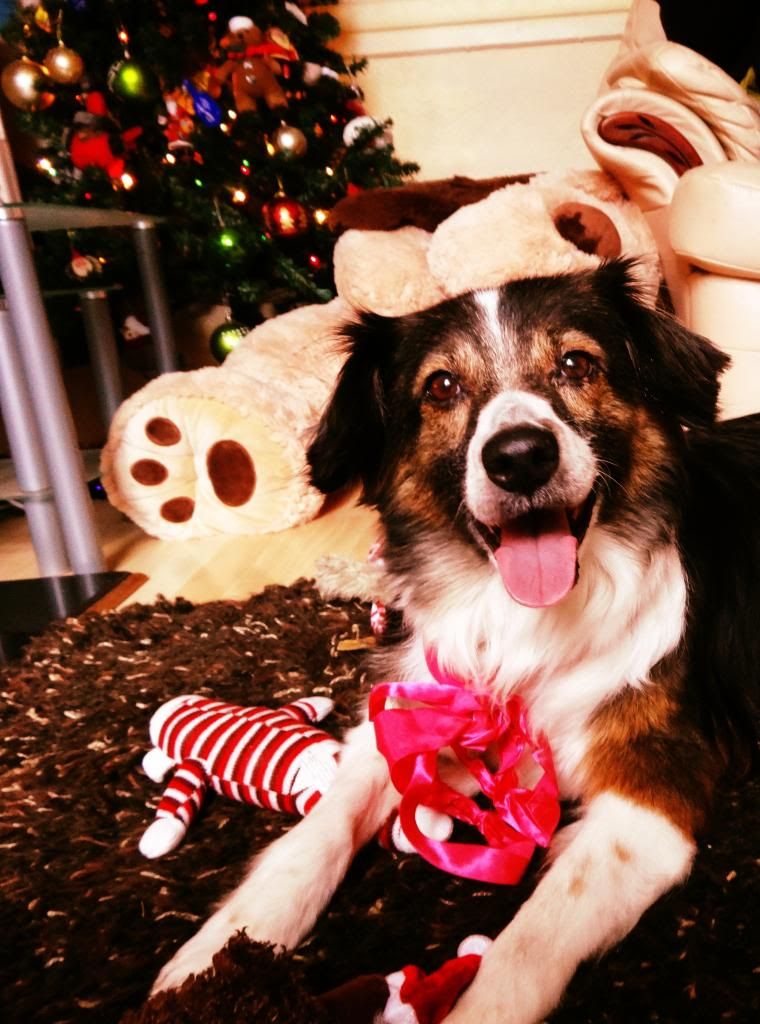 Millie, having what I'm sure was her Best Day Ever.
Okay, so Christmas has come and gone, and the turning of the new year was over a week ago. My apologies for not blogging, but I've been 'busy' having an especially wonderful festive season! I hope yours was equally as merry, and you got everything you wanted from it. I certainly did,
and more
- which is really saying something, because in the past few years Christmas hasn't really done much for me at all.
You can tell it's Christmas Day because of the turkey hat.
Sure, Christmas is about family and happiness and lovely food and merriment, but damn, the presents I got this year were really something too. I'm sort of jealous of myself, really. Basically I've spent the last few weeks watching ungodly amounts of
Twin Peaks
and finally playing
The Legend of Zelda: Skyward Sword
. In the New Year sales I bought my own personal
Xbox 360
too, just to make things even more awesome for myself (so, if you have any unusual game recommendations you want to share, please do!).
So yes, it's been a lovely, and very welcome, break from things.
I've done a little bit of work too, though! The other day I created a new Facebook page for my illustration work, which I will try to update as much as possible (along with my Facebook page for my crafts and stuff, that I've had for a while), and I've also been adding lots more stuff to my Etsy shop! Please do check them out if you get the time
:)
------------------------------
I went back to
Uni
earlier this week to take down the
Christmas exhibition
, and rearrange the studio in preparation for going back and starting a new project next week. I am excite, and anxious at the same time. I'm hoping that the skeleton of an idea I have for a children's book will still sound good to me when I go back...
in short, it involves a blackbirds, squirrels, a bear, a baker, and lots of donuts.


Next week, once I get my
activity book
back from Uni, I'll finally photograph it and post all about it. I hope you'll all love what I was slaving over for so long last year
:)
Until then, thanks for reading. I hope 2013 will be great for you!