So recently I made an 'officiall' RedBubble account exclusively for my illustration, where people can buy my stuff on wonderful quality products such as prints, greetings cards, t-shirts, stickers and iPad/iPhone cases.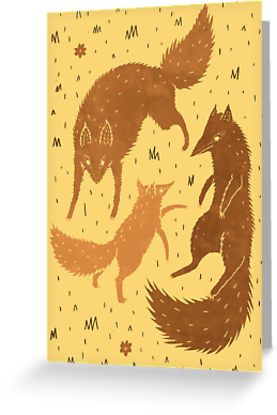 I love RedBubble, but I've never really used it for my illustration before, so I thought it was about time to make some of my work available. To the right is one of the greetings cards I have available so far. I should be updating regularly if I can avoid procrastination, so make sure to check in now and then (even better if you have an account, I always follow back)! I'll add a link to the sidebar, but you can also access my profile from
here
, to make life just that tiny bit easier.
------------------------------------------------------
In other (non-illustration or Uni-reated) news, I went to a show the other night. It was a spur of the moment thing when I realised Canadian alt-hip-hop artist Rich Terfry (AKA Buck 65) was playing in Manchester. I saw him a couple of years ago, and got the chance to meet him afterwards, but it was basically a crime that he was Holy Fuck's support act. This show was just him, in the funky surroundings of Manchester's Deaf Institute, rather than the dingy Manchester Academy, so it was much better.

Who I went with took little convincing to come with me, despite feeling like death warmed up (thanks again! ...You know who you is). I didn't take any photos or footage myself (which I'm kicking myself for because I was right at the front), but here's one of the videos my accomplice took - note at the start he is referring to hugging us after the show, because we put up with a smoke machine constantly farting into our faces ~
Anyway, the gig was fantastic. Funny, thought-provoking, and heart-breaking,
often at the same time.
I have no idea how one person can do so much on stage, and have the audience in the palm of their hand. I'm his polar opposite, but I'm completely in awe of his artistry (and spastic dance moves). It's not just the music that made it an exceptional evening - at times it felt as though I was watching a
TED speech
, or a
SLAM Poetry
reading (in a
very
good way). Rich is hilarious, prolific, interesting, and noticeably lovely to his fans. I got the hug, and he even followed me on Twitter and said he liked my blog. Best night in a looooong time
:)
Soph x