For my new Uni brief '
Limited Edition
', we have to produce 10 artist books loosely based around a given theme. Mine was '
Two Side Story
', which I was really happy with! I looked at lots of different ideas, but finally I've settled on creating a selection of
infinity cards
, based around a woodland or forest animal theme (because I just felt like drawing loads of animals for this one! <.<) Still in the process of doing the drawings for it, but I wanted to share a bit of the work so far...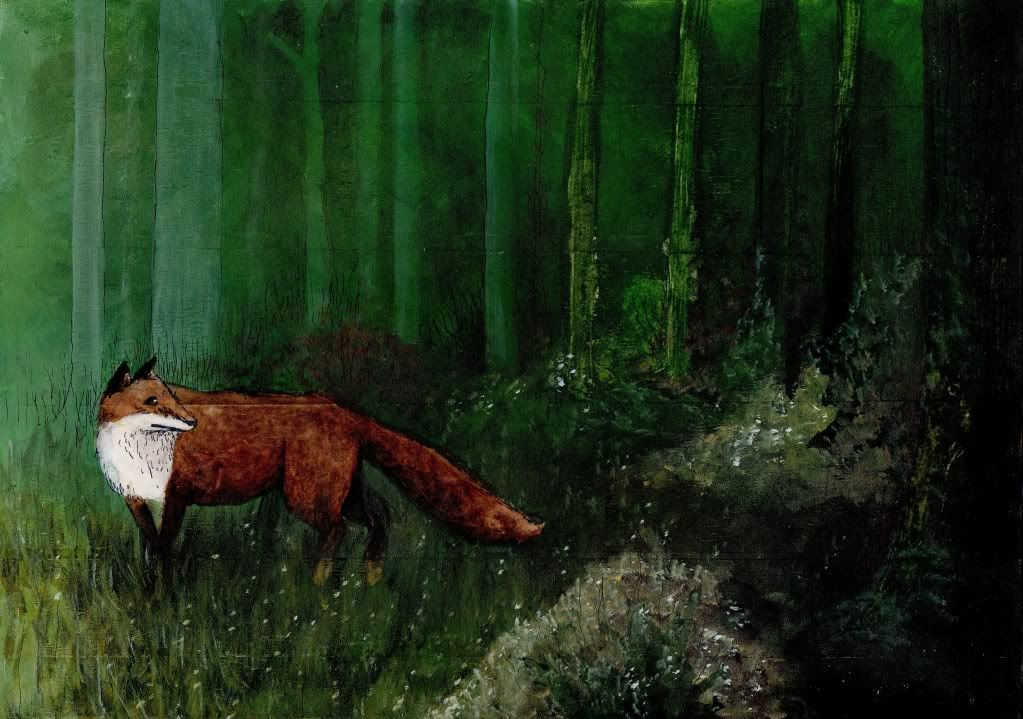 These were a couple of paintings I did for my first idea - I was going to create a circular book and have a forest scene inside each panel . When the book was to be opened, I was going to have a view of the forest from above, complete with little lakes and hints of animals creeping about within (...which should make sense if you view
this video
). I tried editing the colours on GIMP a bit, to see if they looked any better ~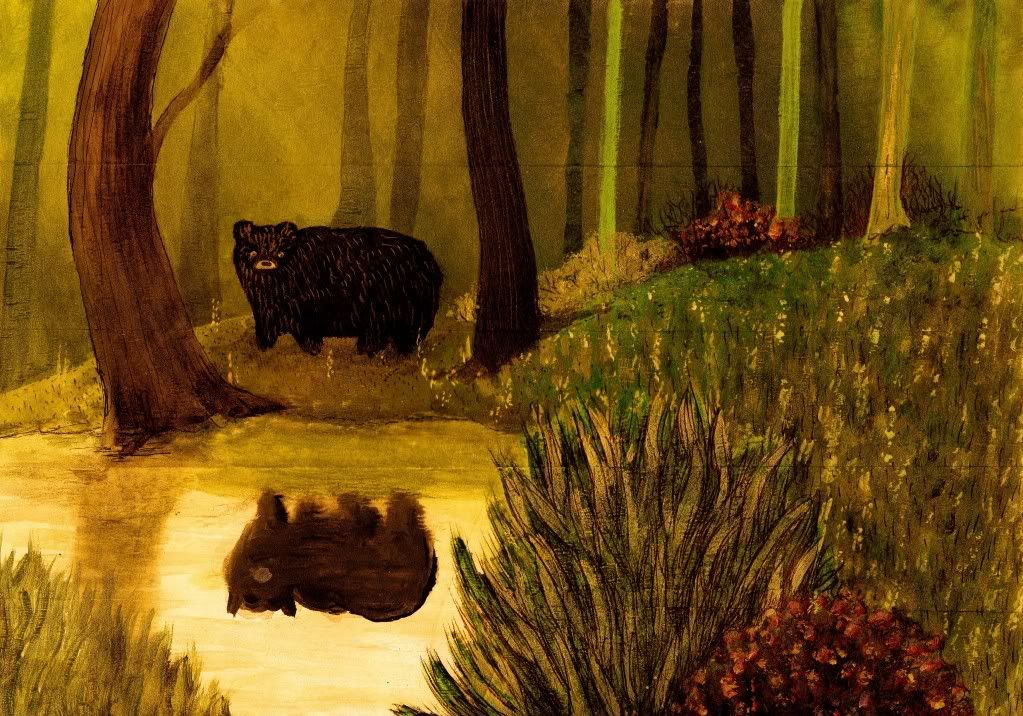 I wasn't really happy with any of them in the end, or the idea in general really (and my failed method of painting over masking tape was a
lesson hard learned
!), so I didn't finish the others, and instead decided to look more into the mathematical wonder that are
infinity cards
and use a simpler, more stylized way of drawing ~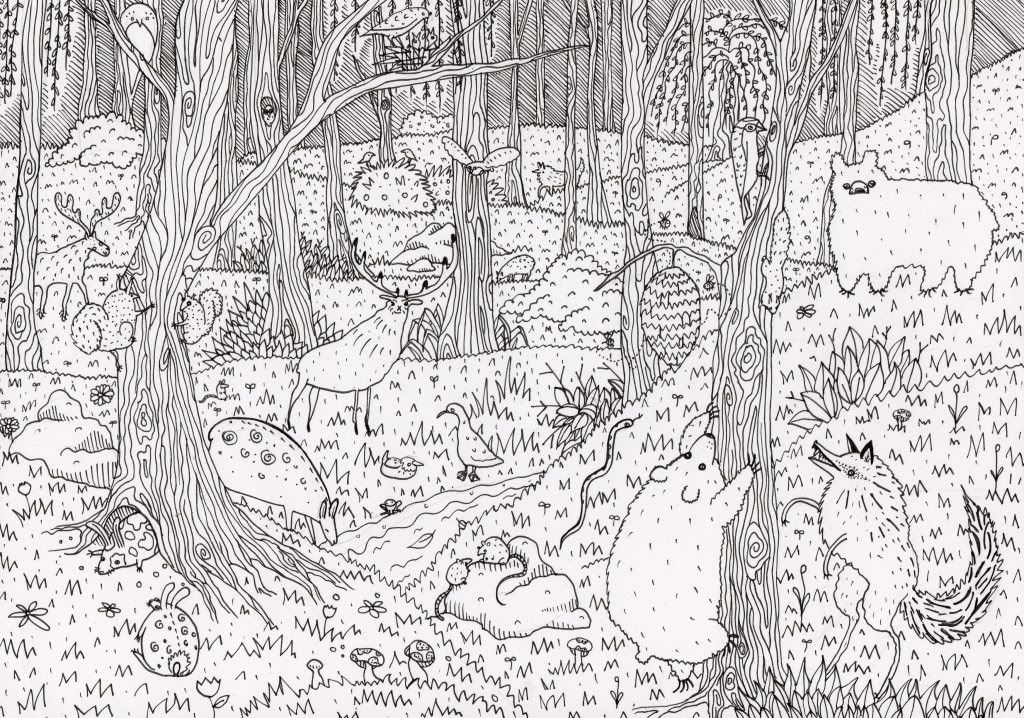 Animals that are awake in the day...
...and animals that are awake at night!
I'm quite pleased with how things are going with this style, people seem to be liking it and it's much more fun and simple than painting..! More updates on the book project to come
:)
It's been a bit of a strange week this week, really...
On Tuesday (after checking out Rich's audio installation at uni - which insidently was awesome) I went with him to see '
Zappa Plays Zappa
' at the Bridgewater Hall, Manchester. It was so fantastic
:,D
I'm a huge Frank Zappa fan, and Dweezil and his band did not disappoint. Don't think I've ever laughed so much at a music show before, either! M
any thanks again to James, Nat, & James' parents for the surprise invite and tickets!
:3
(Also, this is the perfect opportunity to post one of my
extremely
old portraits - and one that I am particularly proud of!
;3
)

On Wednesday morning, I awoke to the surprise/shock/horror of having an axolotl tank filled with eggs (and also four slightly confused axies). I had the suspicion that one of my girls were pregnant, but still, I wasn't expecting it. I've found someone who is willing to take the lot though (thankfully!), and she's very excited about doing so, but still... I'm kind of worried as my other female is looking pretty damn huge these days. We shall see...

And finally, last night I went to St Helens to watch Derek Acorah's 'True Vision' Tour with my sister and her boyfriend. It was my Uncle's idea, he's a huge fan but he couldn't go, so I couldn't refuse when he said he'd pay for my ticket. I find the whole cult-like fascination with the guy to be completely hilarious, too.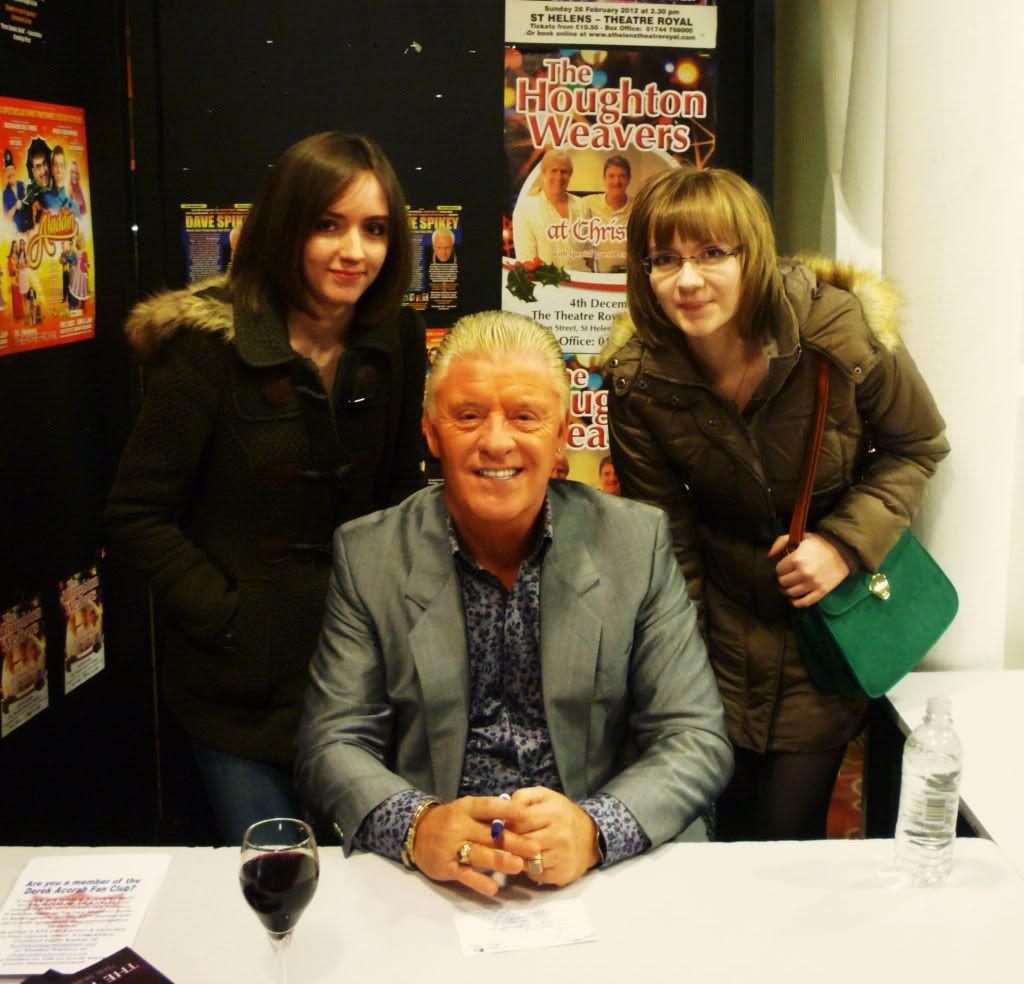 It was actually a really great show, and very funny in parts. Some of the things he said were pretty uncanny, although I didn't take his 'readings' seriously. Nothing negative to say about the people who follow him, we have to make up their own mind up about these things, but until I'm completely persuaded otherwise. I guess I'm kind of a cautions skeptic when it comes to spiritual mediums and such (especially those who wear earpieces throughout the show...?!)

I'm very glad I went though, it was an... unusual experience! And the childhood memories of watching 'Most Haunted' with the bro and sis came flooding back. I decided to get a picture with the man afterwards with my sister, just to make my Uncle jealous... bwahahaa. I'm pretty sure it's the creepiest picture I've ever been in, for so, so many reasons.